CDATA – Clinical database platform

In 2008 Cure2Children (C2C) began a partnership with the National Institute for Blood Diseases (NIBD) in Karachi, the Pakistan Institute of Medical Sciences (PIMS), and SHIFA International Hospital in Islamabad; with the aim of providing financial and professional support for at least six transplants for each Pakistani institution that was willing to work with C2C under our mission objectives and principles, including:
Providing family support throughout treatment, pre-treatment, and post-op recovery (usually a span of six months). This support includes a fully subsidized apartment close to the hospital, as well as screening and prevention for all family members to prevent new cases of thalassemia.
Offering future transplants at a non-profit rate.
As of June 2012 over 600 families have been registered and offered free screening; and a total of 80 children have undergone transplantation with results comparable to those obtainable in high-resource centers. However this high successes rate was obtained with a per-procedure-cost about ten times lower than that in rich countries.
They needed an online database system to centralize clinical data. The system had to be flexible enough to adapt to changing requirements and data structure, and at the same time simple enough to be used by the medical staff. The solution I designed was based on storing data as serialized arrays instead of using a more traditional relational database approach. The clinical forms are described by a settings array and processed by an unique Form objects, responsible for reading, listing, creating, editing and deleting the data, and for all the related html interface. Similarly, I created other data objects:
Database project
Patient
User
Clinical form
Folder
File
Message
Link
Page
Event
Todo
Instead of defining a predefined, hardcoded structure, I let the object to be created and connected in a free, hierarchical structure.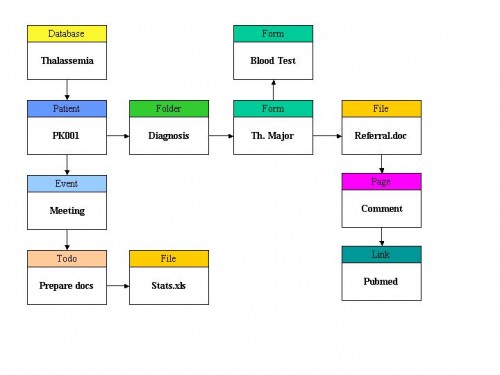 For this project I used the Code Igniter PHP framework as a base, and YUI Javascript library for the interface.